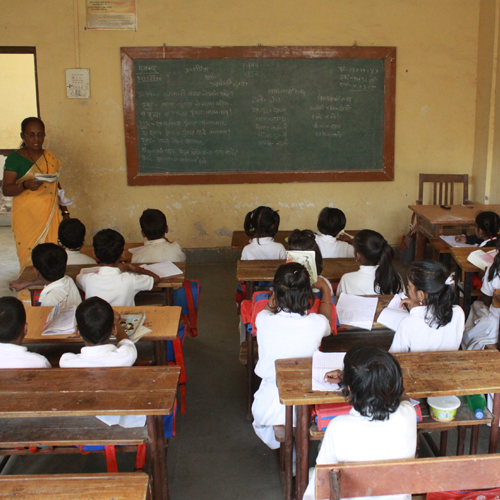 In a 'landmark' judgment, the Allahabad High Court directed the Uttar Pradesh Chief Secretary "
to ensure that all government servants send their children to primary schools run by the state basic education board. The list includes members of the judiciary, government officials, semi-government employees, employees of local bodies and representatives of people
." Read the news article
here
.
This judgment has been celebrated all over different social media platforms with everyone thinking that this is the best thing that could happen to our government schools. Almost everyone seems to be convinced that this will 'force' government employees to improve the condition of public schools because now their children also study there.
The order seems unconstitutional at first glance. If I am not wrong, it violates
Article 19 (c)
of the Constitution of India. It is in violation of the Supreme Court judgment in
Divisional Manager, Aravali Golf Course vs Chander Haas
which stated that judges must not ordinarily enter into the domain of the legislature or executive. This is a classic example of judicial over reach.
How can the judiciary decide which school someone's kids go to? It doesn't matter that this someone is a government employee. Every citizen of the country has the freedom to choose which organisation he/she wants to join and under it, choose the school for their children. It is very likely that this order will be squashed by a higher court.
It is interesting to note how this news has been perceived by the citizens of the country and how everyone is celebrating. People are saying that this is the 'punishment' that government employees should get for being inefficient in their job. It is almost comical when I ask a government employee to send his/her kid to a school over which he/she has direct/indirect control, I am literally asking them to create a conflict of interest.
There are many ways to build accountability in the government system. First, the government should be the one initiating changes and not the judiciary. Secondly, when a system of accountability is being created, it should keep the employees at the center and should in no way involve the family of the employee.
Also, why should the kids be 'punished' for the inefficiency of their parents? Children will be, for the lack of a better word, collateral damage in this attack on government employees. It doesn't seem logical.
Another important thing to note is how are we running our government schools? Why are they so inefficient and ill managed? ASER data shows that private schools can get similar or even better results in less than a third of the money that government spends per child.
Why is the government not able to manage schools? Or more importantly, if the government is not able to manage its schools, why is it running them in the first place?
Privatisation is something we have tried in almost every sector but in education it is still only tried halfheartedly. Schools can only be started by trusts and hence cannot be for profit. The process of starting a school is still in the license-raj stage and hence starting a new school is even more difficult than running a school!
The reason why privatization of government schools comes up from time to time is because of years of evidence of how inefficiently most of these schools are run. The growing frustration among different factions of the society with regard to this is understandable. Government's inaction on this is because of a plethora of other reasons. This in no way gives the judiciary the right to over reach and definitely doesn't give it the right to breach the fundamental rights of any citizen.
Government schools are in shambles and something needs to be done about it. No one can argue against that. There are various steps that the government can take but forcing government employees to send their children to government schools is not the most appropriate step.